IL CALENDARIO DELL'AVVENTO LOOKFANTASTIC È TORNATO PIÙ BELLO CHE MAI...
Il 2021 è il TUO anno! E per aiutarti nel tuo viaggio verso la completa beatitudine della pelle e la massima padronanza del trucco questo Natale, abbiamo 25 incredibili prodotti da provare, dai top skincare ai must della bellezza e della cura dei capelli.
Con un valore incredibile di oltre 475€, puoi mettere le mani sul Calendario dell'Avvento LOOKFANTASTIC oggi stesso a soli 95€! Un risparmio ENORME di tanti €€€!
Il nostro Calendario dell'Avvento è andato esaurito per 6 anni consecutivi, quindi assicurati di preordinarlo ora per non perderlo!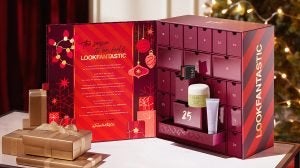 ***SPOILER ALERT*** Here's 5 of the products inside...
ESPA Active Nutrient Clean & Green Detox Night Mask
Shiseido Ultimune Power Infusing Concentrate
Aveda Botanical Repair Treatment
NARS Blush (Shade Orgasm)
Kate Somerville Goat Milk Moisturising Cleanser
Sei abbonato a LOOKFANTASTIC Beauty Box? Clicca sulla tua e-mail di accesso anticipato e usa il tuo sconto esclusivo di 15€ per ottenere il cofanetto a soli 80€*.
Vuoi 15€ di sconto? Abbonati oggi alla Beauty Box e usa il codice ADVENTNEWSUBS alla cassa per avere il tuo calendario a 80€!
*Lo sconto per gli abbonati è valido solo quando si clicca attraverso l'email.
As the Beauty Editor for LOOKFANTASTIC Beauty Box I'm always hunting for a good beauty story, I like to remain ahead of the trends. But aside from this, I'm a keen reader and writer in my spare time. You'll find me with my head in a good book most of the time- Beauty & Fashion related or otherwise! You'll often find me obsessing over the latest tropical-scented body oil or lathering on the coconut moisturiser. As you may have already guessed, I have a natural affinity for all things tropical. Beauty and grooming for me is escapism, a little slice of heaven away from the day-to-day.