QUESTO MARZO, LA BEAUTY BOX DI LOOKFANTASTIC TI PORTA UNA SCATOLA SPECIALE PER UN MESE SPECIALE...
L'8 marzo è la Giornata Internazionale della Donna! Quindi questo mese, Beauty Box celebra tutte le donne forti e indipendenti. L'edizione di questo mese 'Beauty Beyond Boundaries' è tutta incentrata sull'aiutare le nostre abbonate a sentirsi più felici, belle e forti.
Per fare questo, ti stiamo dando non solo una scatola dal design speciale creata dal nostro team di incredibili designer interni, ma anche un prodotto aggiuntivo all'interno della scatola! La nostra box di marzo ha 7 prodotti all'interno e vale più di 60€.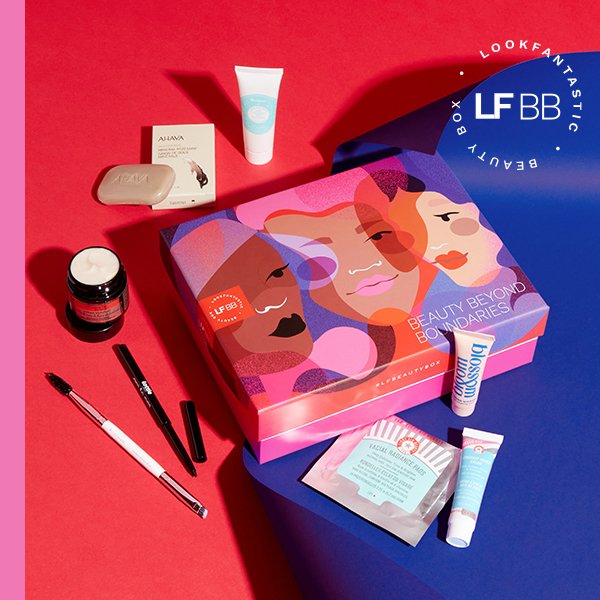 Cosa c'è nella box?
Christophe Robin Regenerating Mask with Rare Prickly Pear Seed Oil (50ml)
Un trattamento rivitalizzante per capelli perfetto per capelli secchi e danneggiati, pieno di proprietà antiossidanti e rigeneranti che penetrano nei capelli e nel cuoio capelluto. Protegge i tuoi capelli dalle doppie punte e dalla rottura, oltre a trattare i capelli colorati ripristinando il pigmento per lasciarli vibranti e sano.
AHAVA Mineral Deadsea Mud Soap (full-size)
Un sapone purificante adatto sia per il viso che per il corpo, formulato per lavare via lo sporco e le impurità senza privare la pelle la sua necessaria idratazione.
Bloom & Blossom Wonder Worker Mutli-Tasking Balm (15ml)
Un balsamo versatile, che ama la pelle, pieno di una miscela di ingredienti nutrienti per condizionare e idratare la pelle. Se soffri di labbra screpolate, mani secche o se hai un piccolo che ha bisogno di un calmante extra, questo balsamo naturale ti potrà aiutare.
Lottie London AM to PM Retractable Black Eyeliner (full-size)
Un eyeliner a matita con una finitura in gel per aggiungere drammaticità e definizione al tuo look di trucco degli occhi. Con una formula che scivolerà senza sforzo sopra gli occhi, evitando qualsiasi trazione o disagio. Completa di un temperino retrattile per mantenere la matita in condizioni ottimali.
Brushworks DUO Eye Brush (full-size)
Un pennello per sopracciglia a doppia estremità per aiutarti a ottenere il sopracciglio perfetto ad ogni utilizzo. Il pennello angolato funziona bene sia con prodotti in crema che prodotti in polvere per aiutarvi a creare peli naturali pennello, mentre l'estremità spoolie è grande per spazzolare attraverso qualsiasi prodotto e creare un soffice, più un look sopraccigliare piumato.
First Aid Beauty Facial Radiance Pads (10 pack) OR Coconut Water Cream (9.6g)
Facial Pads - Tamponi per il viso infusi con ingredienti per promuovere un naturale e sano splendore della vostra carnagione. Adatti all'uso quotidiano, lavorano per ridurre l'aspetto dei pori e delle linee sottili mentre illuminano e levigano la pelle. Sicuro da usare anche sui tipi di pelle più sensibili.
Acqua di cocco - Una crema idratante per il viso leggera e a rapido assorbimento che infonderà nella vostra pelle elettroliti, aminoacidi e fitonutrienti per rinfrescare la vostra carnagione e ripristinare il suo splendore.
Polaar IceSource Ultra-Moisturising Mask (20ml)
Un trattamento rinfrescante che lascerà la vostra pelle idratata e rinfrescata. Combinando 3 ingredienti attivi, questa maschera per il viso nutre la vostra carnagione, allontanando la secchezza e la disidratazione.